Retail Winter Wonderland: The Art of Visual Merchandising at Christmas
The leaves are turning brown and crispy, hot chocolates and coffee to go's are becoming a consistent companion in our everyday lives, as the they keep us warm in the cooling weather.
Autumn has arrived and for a lot of people the big awaiting of the most wonderful time of the year begins. We count 68 days until Christmas! What might seem far away for some of you, plays already a huge role in retail planning departments, especially for the Visual Merchandising teams. Christmas is definitely one of the most important dates in the retail calendar.
One big advantage that brick and mortar will always have over online shopping platforms is the ability to create the perfect Winter Wonderland and this special feeling you get only from being in the middle of it. There are a lot of people who love to stroll through the lightened up streets and have a look at the merry decorated window displays, it's what gets them into the perfect Christmas mood.
You won't get that thrill of anticipation when scrolling through an online shop. Rather you establish joy when you actually stay outside a window and you see the beautiful installation of your favourite shops, whilst the cold tickles your nose and you feel all christmassy.
Festive window displays are key
We already proved that Visual Merchandising is art¹ but it reaches a whole other level when it comes to the festive season. It is a time full of magic, dreaming and fantasy and there are a lot of retail stores who put that into best practices when planning their window displays. After reading, have a look at the gallery we put together of the most inspiring Christmas windows over the past years down below - it definitely gets us in the mood!
Of course there exists a lot of planning and organisation behind those enchanting displays you will see. Visual Merchandising teams are truly able to create engaging and unforgettable customer experiences. Creating window displays is like telling stories².
Inner values count as much as a pretty surface
But the festive decorations do not just play a role when it comes to windows, also inside of the shops is a lot going on. How retailers display, position and group their products will have enormous effects on how successfully they will sell. VM teams have to find the right balance between creating a magical scene and to place the products in a way they do not get lost in the Winter Wonderland, because of course selling still remains the biggest target.
Dennison Lalla, Director of Sales and Visual-Design & Development in New York, sums it up perfectly: "With Christmas allowing VM teams to flex their muscles for both interior wows and remarkable window moments, it's easy to get lost and misplace the end goal for a retailer which is still to sell the product".
There is no talk about Visual Merchandising and retail design anymore without mentioning technology. VM experts can make a use out of it to enhance the customer experiences, e.g. with big screens showing different landscapes covered in snow or showing current christmas campaigns of the shop itself.
Alessandra Canessa, experienced retail designer and VM, takes it even one step further: How about creating Virtual Reality spaces within your store for children to send messages to Santa Claus? Installing those types of screens is a playful addition to your in-store Winter Wonderland. "Today, thanks to technology , we can design great experiences in commercial spaces and enjoy the Christmas preparation to the fullest", she says.
Creativity will pay off
There are no limits to your creativity: Customers want to be surprised and shopping in a beautiful christmassy setting will boost both, their mood and your sales!
Check out the gallery and look out for your favourite inspirations.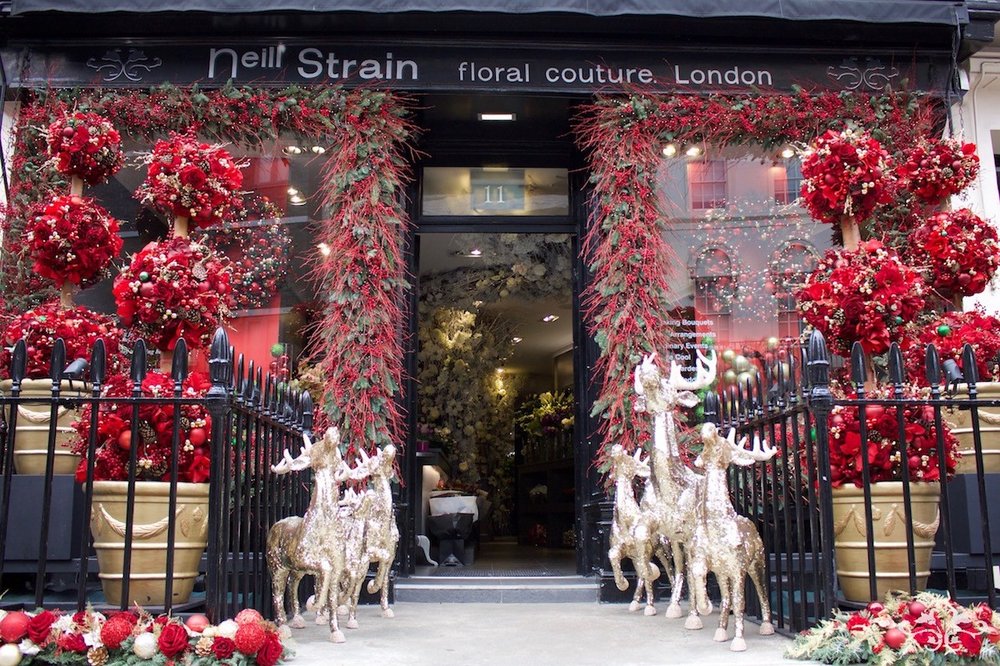 Are you ready to boost your Visual Merchandising in-store? With our retail solution MockShop you can create clear and structured VM guidelines and communicate them directly to all of your stores. Sounds interesting? Don't hesitate to get in touch with us to get more information. We are happy to help!